Water hardness
When water falls as rain, it's "soft" and free of minerals.
It picks up naturally occurring minerals, such as calcium and magnesium, as it passes through rock, sand and soil. This causes the water to become 'hard.'
All the water we supply is 'hard' together with more than 60% of homes in the UK.
The picture shows a comparison with other areas in the UK.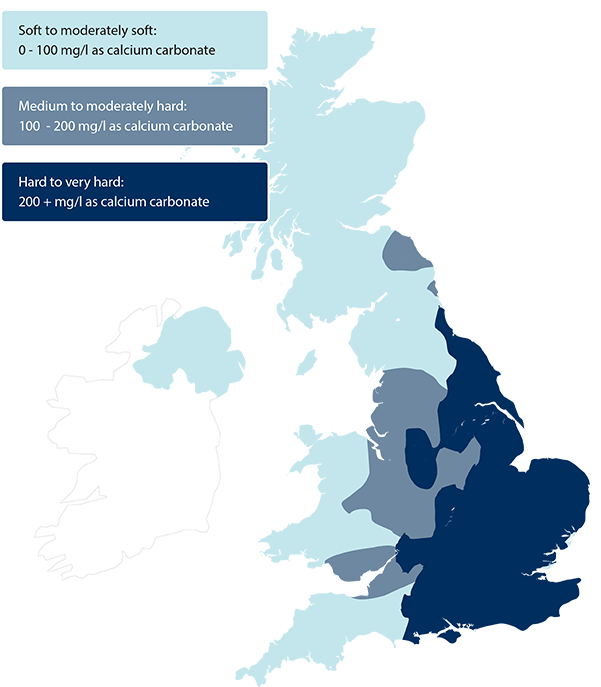 Hard water in your home
Find out more about hard water in your home
Find out how hard the water is in your home
Our area is divided into 19 water quality zones. To access the correct hard water reading:
1.  Find the water quality zone for your area
2. Use the water quality zone to read the table below
| | | | | | | | | |
| --- | --- | --- | --- | --- | --- | --- | --- | --- |
| Zone | Zone Name | Alkalinty (Av mg/l) | Calcium (Av mg/l) | Magnesium (Av mg/l) | mg/l or ppm CaCO3 | Degrees Clark | Degrees French | Degrees German |
| BB | Barr Beacon | 132.0 | 56.98 | 10.10 | 183.9 | 12.9 | 18.4 | 10.3 |
| BB1 | Barr Beacon 1 | 133.3 | 60.00 | 14.30 | 208.7 | 14.6 | 20.9 | 11.7 |
| BUR1 | Burton 1 | 138.3 | 60.30 | 14.72 | 211.2 | 14.8 | 21.1 | 11.8 |
| BUR2 | Burton 2 | 138.3 | 61.46 | 14.90 | 214.8 | 15.0 | 21.5 | 12.0 |
| CH | Cannock High | 144.9 | 69.19 | 5.02 | 193.4 | 13.5 | 19.3 | 10.8 |
| CW | Cawney Hill | 108.9 | 47.96 | 7.34 | 150.0 | 10.5 | 15.0 | 8.4 |
| GLA | Glascote | 154.6 | 74.70 | 11.20 | 232.6 | 16.3 | 23.3 | 13.0 |
| HG | Hayley Green | 102.4 | 49.24 | 8.30 | 157.1 | 11.0 | 15.7 | 8.8 |
| HW | Hopwas | 149.9 | 73.61 | 13.40 | 239.0 | 16.7 | 23.9 | 13.4 |
| RCL | Rugeley Cannock Low | 93.89 | 38.50 | 6.43 | 122.6 | 8.6 | 12.3 | 6.9 |
| SGD | Sedgely Darlaston | 100.2 | 41.36 | 6.76 | 131.1 | 9.2 | 13.1 | 7.3 |
| SP | Springsmire | 153.7 | 71.93 | 8.21 | 213.4 | 14.9 | 21.3 | 12.0 |
| SU | Sutton Coldfield | 138.4 | 62.00 | 10.82 | 199.4 | 14.0 | 19.9 | 11.2 |
| SV | Shavers End | 119.8 | 59.19 | 7.49 | 178.6 | 12.5 | 17.9 | 10.0 |
| SV2 | Shavers End 2 | 121.1 | 59.53 | 7.84 | 180.9 | 12.7 | 18.1 | 10.1 |
| UTT | Uttoxeter | 220.9 | 80.63 | 14.46 | 260.8 | 18.3 | 26.1 | 14.6 |
| WA | Walsall | 95.7 | 38.98 | 6.80 | 125.3 | 8.8 | 12.5 | 7.0 |
| WA1 | Walsall 1 | 108.2 | 38.87 | 6.57 | 124.1 | 8.7 | 12.4 | 6.9 |
| WB | West Bromwich | 98.0 | 40.26 | 6.76 | 128.4 | 9.0 | 12.8 | 7.2 |
| WIN | Winshill | 252.5 | 94.97 | 31.82 | 368.1 | 25.8 | 36.8 | 20.6 |