Saving water outside
With a little care and attention it is easy to save water outside your property.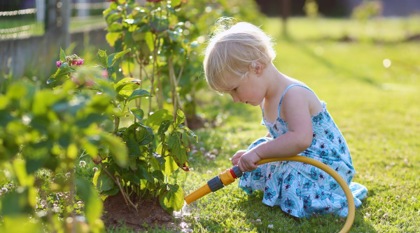 The average hosepipe can use as much as 500 litres an hour - enough water to have 6 baths, or 10 showers!
Leaks
Damp patches in or outside the property, lush vegetation in dry periods or running water may indicate leaking pipes. If you have a water meter a high reading may indicate a leak.


Click here to find out more about leaks
Leaks can damage your property and if you're on a meter it could affect how much you pay.
In the garden
While frequent watering will help your garden look lush and green, it can be time consuming and expensive.
Fortunately, with a little care and attention there's a lot you can do to help your garden not just survive, but thrive during the summer months, all while keeping water use to a minimum.
How to save water in your garden
Find out how to save water in the garden with our handy tips
Washing the car
Instead of using a hosepipe or pressure washer, use a bucket when shampooing your car and a watering can when rinsing off the soap.
If you need to use a hosepipe, ensure it's fitted with a trigger nozzle that will stop the flow of water when it is released.
Pools and ponds
Ensure pools and ponds are watertight as topping them up can use a lot of water. If possible try and keep pools covered to prevent evaporation.