Our Community hub celebrates another milestone
Our Community Hub in Wednesbury turns five today, and has helped over 17,000 visitors since its opening in 2018

Initially conceived as a 12-month, 'pop-up' shop that was intended as a temporary space for customers to speak with us in person, the hub has since evolved into an integral part of the Wednesbury community.

Our vision was to provide a trusted and accessible location for our customers to interact with us, and other support agencies. Since opening its doors on 27 April 2018, the hub has welcomed over 17,000 visitors and provided a venue for many community groups.
As the hub celebrates its fifth birthday,
we
're
thrilled to have supported so many community initiatives, including food bank donations, school uniform swaps and, more recently, being a designated drop-off point for clothing and essential items for the Turkey earthquake appeal.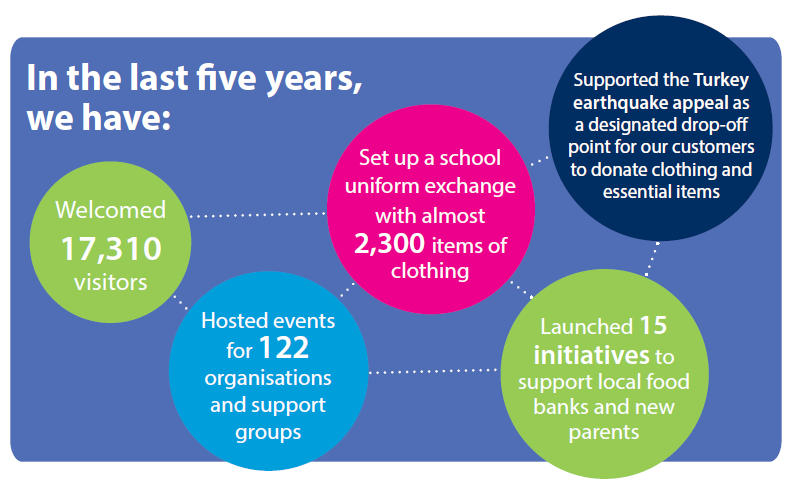 "We are so proud to be able to celebrate such a big birthday milestone. When we first launched the hub, we never imagined that we would still be here five years later. The most rewarding part is knowing that we've helped so many customers and provided them with the support they need. The generosity of our customers over the years has also been amazing – from food bank donations to the Turkey earthquake appeal, we are extremely grateful for their continued support."

- Amanda Lee, community engagement manager, South Staffs Water
There are lots of regular events taking place at our Community Hub, which is located at Unit 17 Union Street, Wednesbury, WS10 7HD. To find out more, drop in, follow the hub on Facebook or visit our hub page.

Posted: 27 April 2023