South Staffs Water, Echo Managed Services and Onsite win a Water Industry Award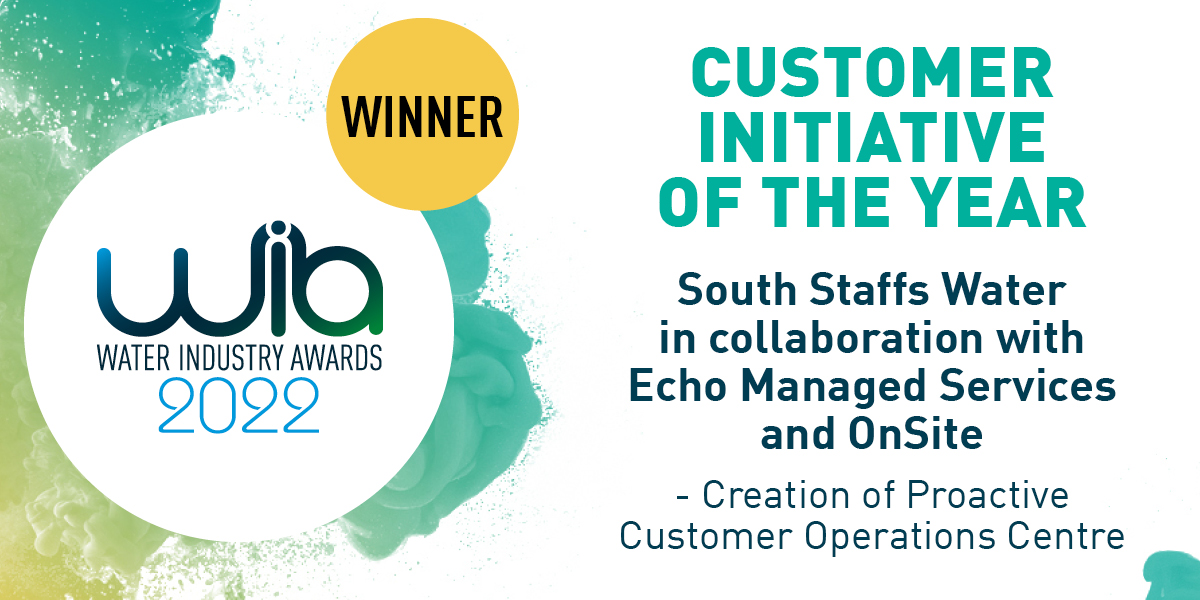 South Staffs Water, in collaboration with delivery partners Echo Managed Services (Echo) and Onsite, has been recognised for customer service at the Water Industry Awards, by winning in the Customer Initiative of the Year category.
The award celebrates the creation of the Proactive Customer Operations Centre which has firmly put customers at the heart, every step of the way, from installing water meters, to fixing leaks and resolving supply issues.
We are a water-only supplier to around 1.6 million people in two areas of supply; South Staffs and Cambridge. From the initial contact from customers into Echo, to resolution by our teams and Onsite teams, systems and processes have been transformed to ensure that the service is responsive and efficient. One example is the new data dashboard, which shows work queues along the journey and highlights if extra resources need to be deployed to ensure a prompt service is maintained. 
"We are so proud to have won this award. The benefits that our Proactive Customer Operations Centre has delivered for our customers has been so valuable in terms of a more proactive service and quicker response times. We are always mindful that our customers are unable to choose their water supplier, and so we pride ourselves in offering an excellent service and will continue to place this at the centre of everything we do. The collaborative partnership we have with both Echo and OnSite means we operate very much as a single team to deliver great service and value for our customers."

Heidi Knapton, head of the proactive customer operations centre at South Staffs Water.
"It's wonderful to have won this award for this new collaborative one-team approach, I'm really proud of the Echo team's contribution Our contact centre team are the first point of contact for South Staffs Water's customers, so it's important we resolve enquiries quickly and support their operational teams through proactive messaging and making it easy for customers to receive the help they need or book a field appointment."

Rachael Merrell, customer service director at Echo Managed Services.
"All of us at OnSite are extremely proud to have been involved in the development and delivery of the South Staffs Water Proactive Customer Operations Centre and to have won this award. This recognition is testament to the hard work, effort and dedication shown by all everyone involved to deliver excellent customer service, including our field-based teams."

The Water Industry Awards celebrate the outstanding work of UK water companies and their supply chains, with the Customer Initiative of the Year category recognising water companies and their partners who have gone the extra mile to ensure their customers receive the best service, and best experience of the water sector, possible."

David Noakes, Head of operations at OnSite.

Posted: 30 June 2022