Water man pedals for pounds
South Staffs Water employee Dave Garrard has handed over more than £1,700 to the company's chosen charity, WaterAid, after completing the Prudential RideLondon 100 mile cycle challenge.
Dave, who lives in Sutton Coldfield and is a keen bike rider joined more than 26,000 cyclists for the event which took place at the end July.   
He said: "The event is the equivalent of the London Marathon for bikes. Cycling 100 miles in one day is always going to be a challenge but it was great to have the opportunity to ride around the sites of the capital before ending up at Buckingham Palace.
"Riding through red traffic lights on closed roads is a great experience and even the hilly bits weren't too bad. Due to a major hold up at Pyrford where a cyclist collided with a tree and had to be had to be airlifted to hospital my official time of 7hrs 44 minutes was longer than anticipated but I was still very pleased with an average riding speed of 17.7mph."
Dave works as head of metering at the water company, which has raised more than £931,000 for the charity since 1993, and knows more than a thing or two about treating water as a precious resource.
He added: "At South Staffs Water we do an important job to ensure we supply our 1.5 millioncustomers with a clean and safe water supply, each and every day.
"Yet in other countries this is a luxury people can only dream of. 650million people in the world do not have access to water and one in three people lack access to sanitation.
"Since 2004 WaterAid has helped 4.8 million people and anything I can do to help this situation and raise awareness has to be a good thing."
Dave is still raising money for the charity. Donations can be made at www.justgiving.com/fundraising/Dave-Garrard.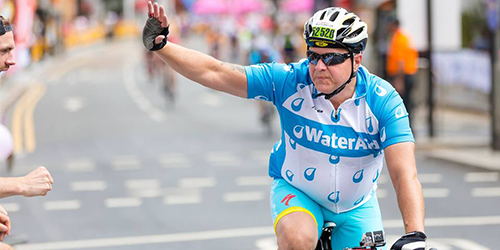 Dave Garrard supports WaterAid at the Prudential RideLondon 100 mile cycle challenge