Dovehouse Fields Community Gardens
Dovehouse was a piece of unused scrubland in December 2017. The aim of the project was to clear half the ground for community cultivation and to provide facilities for local residents to come together for activities and events, but also improve the biodiversity of the site.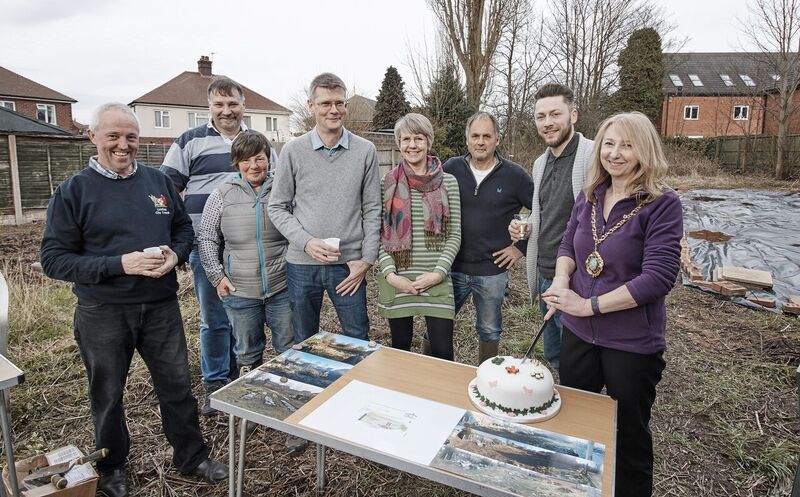 Photo shows: The launch of the project with Cllr Janice Greaves, who was the mayor of Lichfield City Council at the time.The Pebble grant enabled the group to build a shelter and use the run-off grey water for irrigation of the plots. A urinal and willow weaved shelter was also created by volunteers with a run-off to a reed bed.
Since the community garden has been open regular traffic, in this previously rather deserted urban corner, has increased and there has been a noticeable reduction in the use of the area for drugs.
Young families have been introduced to gardening and growing their own food, and techniques shared amongst all members such as "no dig".
The Pebble grant gave them support they needed near the start of the project which started a momentum with more individual and communal growing spaces being created. More locals are getting involved with the project and events are being planned for the year. A donated greenhouse is the start of making undercover growing spaces which will lengthen the growing seasons for all.
Photo shows: Before and after scenes in the garden.
The BBC "Britain in Bloom" series followed the work of Blooming Lichfield and filmed the work at Dovehouse. It is scheduled to be aired at 6:30pm on Thursday 4 April 2019. It emphasises how the group has kept the wild areas and found uses for the so-called weeds.