Bogus callers
Most people who call at your home will be genuine.
But sometimes, people turn up unannounced and try to trick their way into your home to steal valuables and money. These are known as distraction burglars or 'bogus callers'.
Protecting you with three simple steps…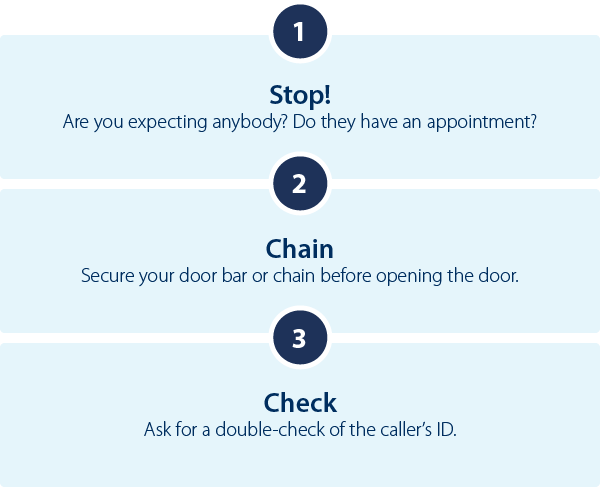 Bogus callers often pretend to be from utility companies
To help keep you safe from bogus callers:
All of our employees carry photo identity cards.

Each identity card has a unique number - you can call us on 0345 60 70 456 and we'll use this to check their name and reason for the visit.

Our employees wear a South Staffs Water uniform and will typically be in one of our branded vehicles however contractors working for us may not wear the same uniform or drive branded vehicles.

If we need to enter your property we will be polite, patient and understanding.
We very rarely need to go upstairs and we certainly don't need to send more than one person in your house at any one time.

If someone uses the term 'Water Board' it's not us – we don't use this phrase.

For added peace of mind, you can also register for our password scheme. 
Register a password
Keep bogus callers at bay - register a password
Remember…
If you're suspicious you should call the police or contact Crimestoppers anonymously on 0800 555 111. If it's an emergency call 999

A genuine caller is always happy to confirm their name and which company they are from.